Michael W. Smith – Christmas At Home w/ guest Michael Tait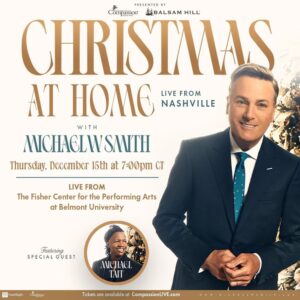 Join multi-platinum, Grammy Award winning singer / songwriter Michael W. Smith for a night of music and celebration with his special guest and friend, Michael Tait. Live from the beautiful Fisher Center at Belmont University in Nashville, Tennessee, CHRISTMAS AT HOME brings you a night of Michael W. Smith's biggest Christmas hits along with traditional favorites AND festive songs from his new Christmas EP, Christmas At Home. From our home to yours, we hope you'll join us for a Christmas celebration that you will never forget.
The on-demand concert will take place on Thursday, December 15th at 7:00pm CT. Can't make that time work with your schedule? Not to worry, you can enjoy the show through the holidays because unlimited on-demand viewing will be available through 11:59pm CT on Sunday January 2nd.
Want an extra Christmas gift from Michael (on top of doing something life-changing for a kiddo in need)? Sponsor a child through Compassion International and you'll receive a ticket to the Christmas At Home concert On-Demand. Plus, you'll have on-demand access to the exclusive encore of last year's Christmas concert with Michael and his dear friend Amy Grant. It's our thank you for providing hope to a child in need.
Tickets are available at CompassionLIVE.com and we'll see you on December 15th!