Scott Barrett in Concert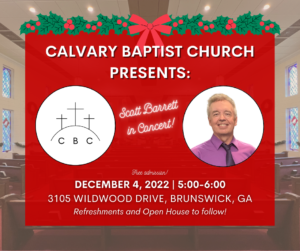 Scott Barrett will be in Concert at Calvary Baptist in Brunswick  on Sunday December 4th at 5PM.  Scott's ministry will include the Christmas story through scripture and music.
The Concert is free admission and will be followed by Open House and Refreshments.  Everyone is invited to come and bring their family for this special evening of music and ministry.
For more information you may call Calvary Baptist at 912-265-1390.
12/4/22
5pm – 7pm
Free Admission
Calvary Baptist Brunswick
3105 Wildwood Drive
912-265-1390